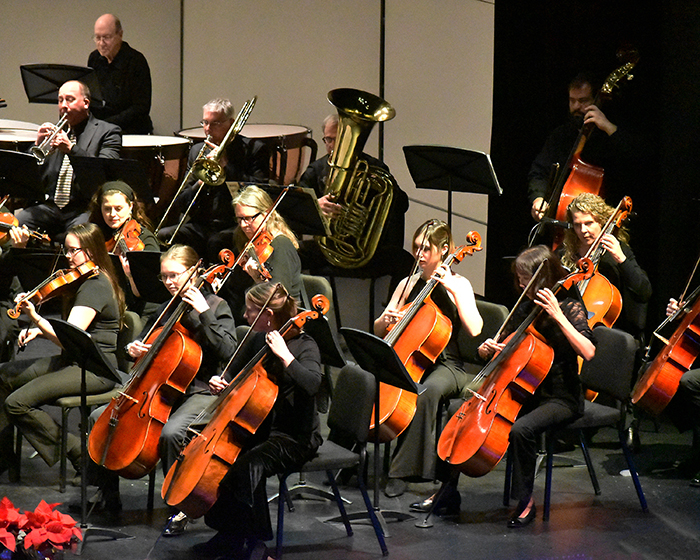 February 23, 2023, Santa Rosa, CA — The Santa Rosa Junior College Orchestra will present a concert under the direction of its Conductor Cynthia Weichel, on Friday, March 17, 2023, at 7:30 pm at Burbank Auditorium at the Santa Rosa Junior College (SRJC) campus, 1501 Mendocino Ave. General admission tickets will go on sale at Eventbrite on February 27: $12 adults, $6 students, seniors, and children. Tickets are on presale and will likely be sold out before the day of the concert.
The concert will feature Luther Burbank Center for the Arts (LBC) Mariachi Cantares de mi Terra, directed by LBC Music Specialist José Soto. LBC's Mariachi Ensemble is a free, year-round after-school program, enrolling 115 students this year. The program teaches technique, musicianship, and stage presence, as well as social and emotional skills like perseverance, leadership, cooperation, and collaboration. Students range in age from nine to nineteen and come from communities around Sonoma County, including Cloverdale, Healdsburg, Rohnert Park, Santa Rosa, Sebastopol, and Sonoma. They receive all necessary supplies, use of an instrument, and uniforms, called trajes, for members of the Advanced Ensemble.  Mariachi Cantares de mi Tierra perform at a wide range of local community events. They have opened for the world-renowned Mariachi Vargas de Tecalitlán at LBC and were invited to attend the annual mariachi competition in Tucson, Arizona, in May 2022.
The concert program focuses on music by Mexican composers. The orchestra will perform the popular Huapango by José Pablo Moncayo, the exciting Danzón No. 7 by Arturo Márquez, and the lush Intermezzo from Goyescas by Enrique Granados. After intermission, the program continues when the orchestra and Mariachi Cantares de mi Tierra join to play La Malagueña, Cien Años, Cielito Lindo Huasteco, La Negra, and Amor Eterno.
The 54-piece SRJC Orchestra represents college students and community members from all over Sonoma County.
Conductor Cynthia Weichel is on the faculty of SRJC, where she teaches Music Appreciation, and Music History, and is the studio violin/viola instructor. Weichel is a native of Santa Rosa and an alumna of SRJC. She received her bachelor's degree in music from Sonoma State University and a master's degree in Orchestral Conducting from CSU, Sacramento. Ms. Weichel has been conducting orchestras in Sonoma County for over 35 years. She is currently the founder/conductor of the North Bay Sinfonietta and the popular Symphonic Reading Orchestra. She was previously the conductor of the SRJC Orchestra from 1999-2012 and was also the assistant conductor of the Santa Rosa Symphony Youth Orchestras for over 10 years. As a professional violinist, she has been a member of the Santa Rosa Symphony and the Napa Valley Symphony for over 20 years. As a violin instructor, Ms. Weichel has taught for numerous schools in Sonoma County. As a professional arts administrator, she spent almost 20 years as manager and education director for the Santa Rosa Symphony Youth Orchestra and was also the operations director for the California Symphony.
Other interesting facts about this collaborative effort:
José Soto is an alumnus of SRJC and took studio violin lessons with Associate Faculty Professor Cynthia Weichel for two years.
The SRJC Orchestra currently has two members who attend the college and play in other local professional mariachi ensembles.
Ms. Weichel taught beginning violin at the LBC's summer mariachi camp for four years. Some of her beginning students continue to progress through the program at LBC.
For more information about other SRJC Music events, visit https://music.santarosa.edu/events
To purchase tickets starting February 27, visit https://www.eventbrite.com/e/viva-la-musica-tickets-559147775047