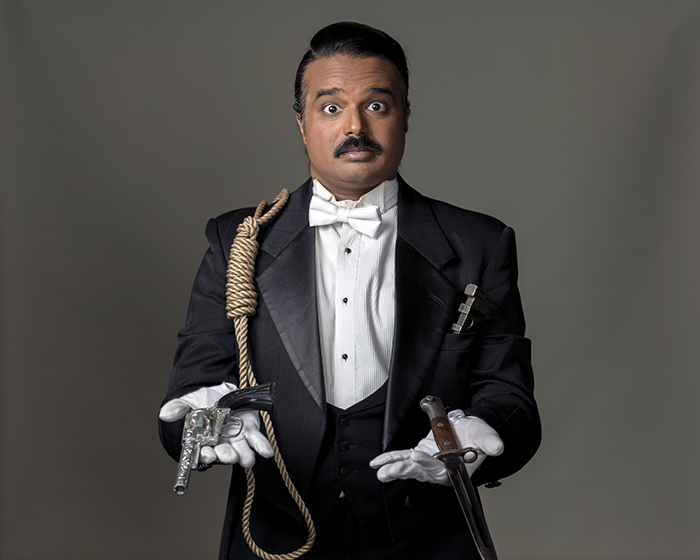 September 12, 2023, Santa Rosa, California – Santa Rosa Junior College Theatre Arts Department is opening their fall 2023 season with the play "CLUE," by Sandy Rustin. The show is directed by SRJC faculty member Reed Martin.

The show runs September 29, 30 and October 4, 5, 6, 7 at 7:30pm, and Oct 1, 7, 8 at 2pm, in the Burbank Main Stage Theatre.

Based on the iconic 1985 Paramount movie which was inspired by the classic Hasbro board game, CLUE is a hilarious farce-meets-murder mystery. The tale begins at a remote mansion, where six mysterious guests assemble for an unusual dinner party where murder and blackmail are on the menu. When their host turns up dead, they all become suspects. Clue is a whodunit comedy that will leave both cult-fans and newcomers in stitches as they try to figure out...WHO did it, WHERE, and with WHAT!

Written by Sandy Rustin, an actress and award-winning playwright named to American Theatre's list of "Most Produced Playwrights" of the 2022-2023 season and to the Broadway Women's Fund's "Women to Watch" list.

Her adaptation of the cult-hit film, CLUE was named by American Theatre as one of the top produced plays in the country 2022-2023 (over 3,000 productions worldwide!). Directed by Casey Hushion, the play broke all box office records during its regional premiere at Cleveland Playhouse, its West Coast premiere at La Mirada Playhouse, and its East Coast premiere at Paper Mill Playhouse where the New York Times called it "a welcome throwback to an era of physical comedy!" In Chicago, the Mercury Theatre's production of CLUE has been Jeff Award Recommended for the '23 season. The play ran in the UK ("Cluedo") on a national tour directed by Tony and Olivier winning director Mark Bell. CLUE is available for licensing via Broadway Licensing. 

Produced by special arrangement with Playscripts, Inc. (www.playscripts.com}
Tickets: $15-$25
Purchase online, by phone, email.  The Box Office will also be open (in-person) one hour before show.
WEBSITE: https://theatrearts.santarosa.edu/
BURBANK BOX OFFICE: 707-527-4307   
EMAIL: srjcboxoffice@santarosa.edu
Location:
Burbank Auditorium Main Stage Theatre
Santa Rosa Junior College
1501 Mendocino Avenue
Santa Rosa, CA
Parking $4
Photo by Thomas Chown.