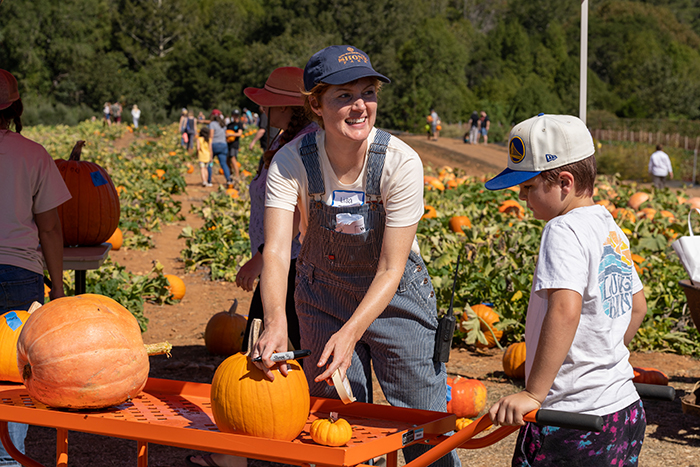 September 14, 2023, Forestville, CA —Santa Rosa Junior College's (SRJC) Shone Farm will hold its annual Fall Festival on Saturday, Oct. 14 from 10:00 a.m. to 3:00 p.m. The farm is located at 7450 Steve Olson Lane.
 
Shone Farm welcomes the community to experience the farm during harvest season. SRJC's Agriculture and Natural Resources Department students and staff will facilitate activities and present an abundance of food. Entrance fee is $5 per car and tickets are available online.  
 
A farm stand will highlight Shone Farm fresh seasonal produce such as tomatoes, Bodega red potatoes, and sweet peppers, and the students in the tasting room will be pouring Shone Farm wines.  In addition, you can stop by the barn to view the resident animals. The following lunch options will be available for attendees: burgers prepared by the Sebastopol FFA; soup and sandwiches from Black Piglet + Catering, with a portion of sales benefitting Farm To Pantry, and chili made by Food For Thought.
 
No dogs, except assistance dogs, are permitted.
 
Farm activities include:
U-pick pumpkins, apples, and sweet potatoes
Kid's zone including rotten fruit slingshot and compost lessons
Showcase of student enterprise projects including cut flowers and hemp
Tractor show and tell, farm equipment displays
Sheep shearing and animal meet and greet
Farm tours, hay bale tours
Wine Tasting
 
Animal Science student Emily Winningham worked at last year's fall festival. She said, "I love showcasing our programs to our supporters. It is so fulfilling to share what I've learned. I'm also excited to introduce our bottle-fed and halter-trained lamb, Daisy, to families."

For more than four decades, Shone Farm has been a field laboratory and teaching resource for SRJC's Agriculture and Natural Resources students. They benefit from direct, hands-on experience as they learn about natural resource management and conservation, sustainable agriculture, winemaking, viticulture, and animal health and livestock management.
 
More information about the Fall Festival is available at https://shonefarm.santarosa.edu/fall-festival and at https://www.facebook.com/SRJCShoneFarm.