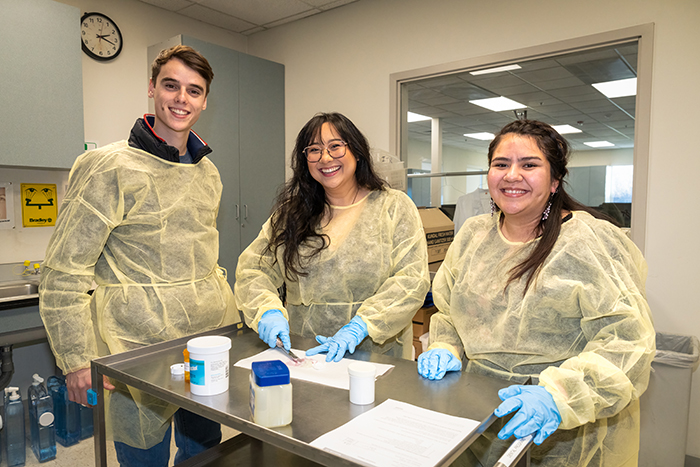 January 18, 2023,  Santa Rosa, CA — Santa Junior College announces the return of the Pharmacy Technician program for 2023, after more than two years on hiatus. Established in 2001, the program provides the region with a high-quality educational foundation for a career path in the expanding health care industry. Pharmacy Technicians work under the supervision of licensed pharmacists to perform technical duties in the systematic operation of the pharmacy by providing health-care services and medications to patients, and office management duties for the pharmacy's day to day operations.
SRJC's Pharmacy Technician program is designed as a full-time, summer start sequence to be completed in three semesters, with an introductory course during summer semester, 4 classes in the fall, and five in the spring. The program comprises 19.5 units in classes of approximately 30 students, and prepares students to work in different pharmacy environments such as retail, outpatient, inpatient, infusion, and other areas. Students will also gain real-life experience through externships and lab simulations such as compounding and IV training.
"The pharmacy technician field has changed and opened new doors for this role," says Jesus Nieto, SRJC's Pharmacy Technician program coordinator. "They now have the ability to train and administer vaccines; this helps both patients and pharmacists. It is an exciting time to be a pharmacy technician because there are many new roles outside the traditional pharmacy sphere that one thinks of."
Program graduates may pursue a Pharmacy Technician Career Certificate, or an Associate in Science degree, Pharmacy Technician major, after meeting general education requirements. Completing the program makes students eligible to apply to the California State Board of Pharmacy for licensure to work as a pharmacy technician in retail or hospital-based employment. The program also serves as a stepping stone toward higher level degrees and careers in healthcare or pharmaceutical research, and job search assistance is available through the college's Career Hub. Pharmacy Technician jobs in California increased by 19.7% from 2012 to 2019.
For more information, including program, licensing, and clinical site requirements and background checks, visit pharmacy.santarosa.edu, or email Program Coordinator Jesus Nieto at jnieto@santarosa.edu.