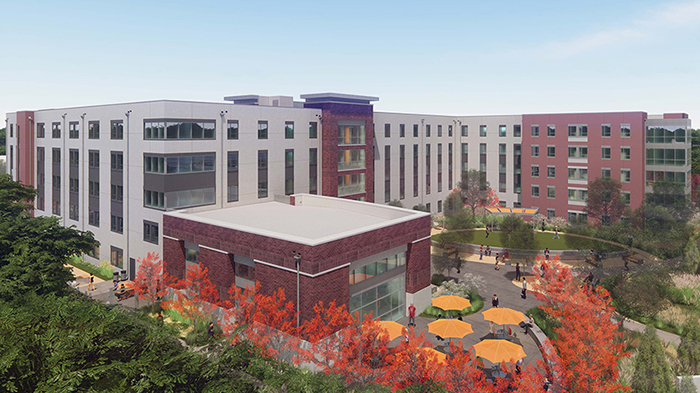 December 14, 2022, Santa Rosa, CA — At its December 13 meeting, the Sonoma County Junior College District Board of Trustees approved the naming of the Santa Rosa Junior College (SRJC) student housing project as the Polly O'Meara Doyle Hall. This naming follows the SRJC Scholarship Committee's approval of the creation of a new $400,000 annual Doyle Housing Scholarship for students who will live in the dorms, which will provide up to $1,200 per student per year.
"It is an honor to recognize Polly O'Meara Doyle's contributions to this college," said SRJC President Dr. Frank Chong. "The entire Doyle family has a longstanding legacy at SRJC, including the Doyle Trust, which has provided scholarships to thousands of SRJC students since its inception. I am deeply appreciative that the SRJC Scholarship Committee supported the creation of a new scholarship that will help make this housing even more affordable for our students."
Polly O'Meara Doyle was one of fourteen women with the Federated Home and School Association who in 1917 came together and recommended the formation of a junior college in Santa Rosa. The Sonoma County Board of Education approved their recommendation three days later. Her longstanding legacy continues to benefit the many students who attend SRJC, including more than 1.7 million graduates.
"As one of a lucky dozen women fortunate enough to live 'on campus' at SRJC in the early 1950s, it delights me to learn that the new campus living facility will bear a woman's name. And such a woman!" said local columnist, author, teacher and Sonoma County historian Gaye LeBaron. "Both Polly O'Meara Doyle's family name and her married name are writ large in the history of the college, the town and Sonoma County. Polly's marriage and partnership with Santa Rosa's activist banker, civic leader and philanthropist Frank Doyle made her an important part of a 'team of two' creating assurance that the college would continue to serve its community in the most efficient and most comfortable way."
In addition to naming the Polly O'Meara Doyle Hall, SRJC will add a plaque in the new housing's lobby recognizing the fourteen women who are the founders of the college.
"The student housing experience can change lives and be the difference in students completing their academic goals," said Interim Vice President, Student Services Robert Ethington. "This project removes one giant barrier to student success and provides students a proven, outside the classroom learning environment."
Applications for SRJC student housing are open now for August 2023. Please visit housing.santarosa.edu for more information.