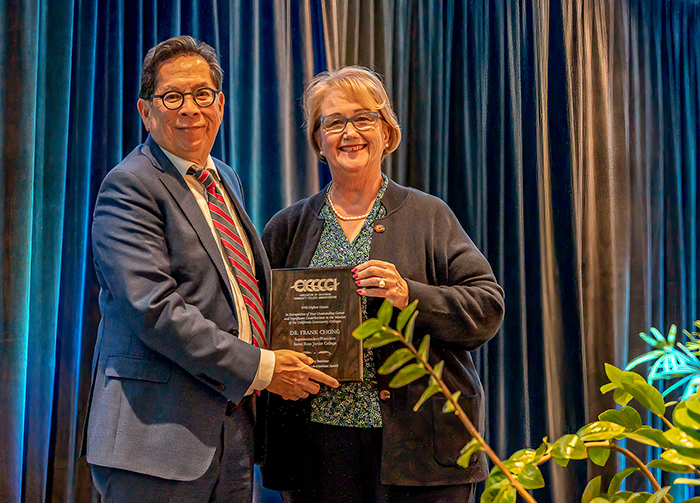 March 14, 2023, Santa Rosa, CA — The Association of California Community College Administrators (ACCCA) has named Santa Rosa Junior College (SRJC) president Frank Chong, PhD as the recipient of their 2023 Harry Buttimer Distinguished Administrator Award, the association's oldest and most prestigious award. The organization presented Chong with the award on February 23, during their annual conference in Rancho Mirage.
Dr. Chong began at SRJC in January 2012, leading the college into its second century of operation. During his tenure the community passed Measure H, the largest bond measure in Sonoma County history, funding technology and facility updates across the district, new athletic facilities, complete renovation of Burbank Auditorium, construction of the new Kunde Hall and massive Lindley Center for STEM Education, and sustainability improvements decreasing the district's potable water usage and increasing emergency power resilience. He's brought the dream of affordable student housing to fruition in a 352-bed housing project opening this fall and overseen the purchase of the Southwest Center, serving the rapidly developing Roseland community. Chong has also steered the college through two accreditations, the development of two district-wide strategic plans, response and recovery from multiple devastating wildfires in the community, and the creation of a new Ethnic Studies department and Intercultural Center. During Dr. Chong's tenure, the SRJC's Foundation endowment went from $26 million to over $75 million.
Chong came to Sonoma County after stepping down from a position as Deputy Assistant Secretary for Community Colleges at the U.S. Department of Education. During his time in Washington, D.C., Chong helped to shape the Obama administration's community college agenda, developing policies for the President's college completion goal. He led in the development of the federal Trade Adjustment Assistance Act, a program that supports workers who have lost their jobs due to production moving outside the United States or due to other impacts of foreign trade. Prior to his federal stint, he served as president of Laney College in Oakland, Mission College in Santa Clara, and dean of student affairs at San Francisco City College.
Among the numerous letters of nomination received for Dr. Chong from organizations and individuals, Dr. Keith Curry, CEO of Compton College, summed them up well.  He wrote: "Over the years, Dr. Chong has provided an example of courageous leadership that inspires change and through his work created new ways to ensure students can be successful. Most importantly, Dr. Chong has been and will continue into retirement as a fierce fighter/advocate for students."
The ACCCA is a non-profit professional organization for administrators and managers of the 73 districts and 116 California community colleges making up the largest higher education system in the United States. First presented in 1986, the Buttimer Award recognizes the outstanding achievements of presidents, superintendents and chancellors leading California community college institutions. The award is a distinguished honor to close out a public service career that has earned other kudos including the Leadership Education for Asian Pacific Americans Award, NAACP Santa Clara County Chapter Diversity Award, and the Harvard Club of San Francisco Distinguished Alumni Award. Last fall, Dr. Chong announced plans to retire in the summer of 2023. The district's search for his replacement is currently underway.
Dr. Frank Chong is handed his award by Dr. Pamela Luster, the 2022 Buttimer Recipient, and President Emerita of San Diego Mesa College.
PHOTO CREDIT: Ed Tyler Photography