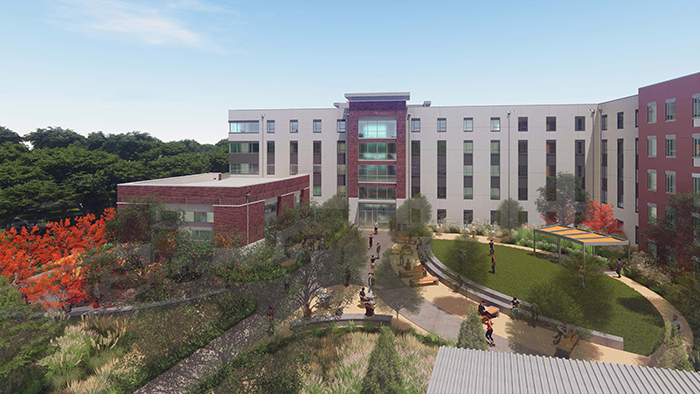 October 26, 2022 – Santa Rosa, CA — Santa Rosa Junior College (SRJC) is pleased to announce the opening of the new leasing office for the 352-bed student housing complex under construction in the west side of the Santa Rosa campus. An open house with brief remarks will be held on Thursday, November 3, at 1 pm in Plover Hall on the Santa Rosa campus. The media and public are invited to attend.
Student applications are now open for the scheduled Fall Semester 2023 opening, and are available in person from the office, or online at housing.santarosa.edu. There is a $35 application fee, which can be waived for those who financially qualify. Featuring single and double rooms and a small number of suites, the building will offer common area kitchens and study rooms on each floor, Wi-Fi, laundry service and more. Rooms will include a bed, desk, chair, chest of drawers, closets, individually controlled heat and air-conditioning, and ethernet connection. Monthly rents will begin as low as $900 for a traditional double, up to $1750 for a private room in a large shared apartment, and there will be a number of scholarships available.
Rising housing costs both locally and nation-wide have become a critical issue for students, and SRJC is pleased to be able to provide students a more affordable, on-campus alternative to the competitive local rental market. Students will be notified of their application status in the spring semester, and once an agreement is signed to secure their spot, can expect to receive their room assignments in May 2023.
"We are so excited to offer students this opportunity to live and learn in a community set up for their success while removing one of the biggest barriers to retention and completion," stated Robert Ethington, VP of Student Services
This student housing community is being financed and delivered through a public‐private partnership, and will be managed by Servitas Management Group, LLC via on-site, resident staff.
The Santa Rosa Junior College Student Housing Leasing Office is currently located in Plover Hall on the Santa Rosa campus, and is open Monday through Friday, 9 am to 5 pm (closed for lunch 1-2 pm). The campus is located at 1501 Mendocino Avenue. More information is available at housing.santarosa.edu