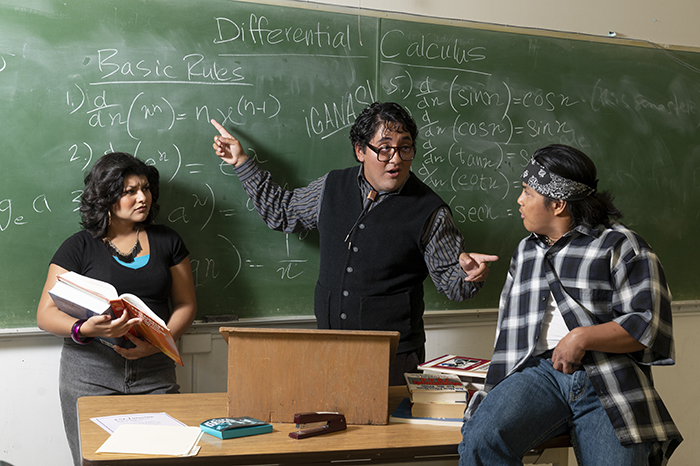 September 6, 2022, Santa Rosa, CA – Santa Rosa Junior College Theatre Arts Department is opening their 2022-2023 season with the play "Stand and Deliver," based on the screenplay by Ramon Menendez and Tom Musca, and adapted for the stage by Robert Bella. The show is directed by SRJC associate faculty member Elizabeth Dale, and assistant directed by cultural advisor and Theatre Arts' alumna Anakarina Swanson.
 
The show runs September 30, October 1, 5, 6, 7, 8 at 7:30pm and October 2, 8, and 9 at 2pm, in the Burbank Studio Theatre.
Based on a true story and the Academy-Award nominated film, "Stand and Deliver" celebrates Jaime Escalante, a math teacher at an East LA high school who transforms his students' lives with his unorthodox teaching methods. The production is dedicated to all hard-working, inspirational teachers but especially Maestro Roberto Ramirez, who has been teaching math to and inspiring Latinx students in Sonoma County for decades. There will be an opening night reception in his honor.
 
This production features SRJC Theatre Arts alumnus Daniel Bañales as a guest artist in the lead role of Jaime Escalante. Bañales, a graduate of Sonoma Valley High School, was inspired to play the part because "I love to give back to the place that gave me my start!  So many of my teachers inspired me to take the role of such an inspirational man that sculpted so many minds. Playing such a great teacher will hopefully help me become a better human."
 
Staff member and SRJC student Maria Marisela Navarro Macias, who is from Mexico, is making her stage debut in the role of the secretary.  "I have a desire to tell the truth about the Hispanic community. There is much discrimination against Hispanics, so a play like this one can help to dismantle stereotypes and myths about us. Any type of art is medicine to the soul."
 
Isiah Christon-Lee Carter will play the role of student Pancho Garcia. Carter grew up in Compton, Los Angeles before attending Piner High School. He says he was inspired to audition because of the play's message. "Those from disadvantaged backgrounds can accomplish anything when passionately motivated by a great teacher. I feel a connection to the students in the play, as well as to the school system, because the schools I went to in Los Angeles not only lacked funding for thing such as books, computers, and desks - but we also didn't have a lot of teachers who tried to motivate or inspire us."

The role of student Lupe Escobar will be played by Andrea Lizbeth Chavez. Chavez is a graduate of Maria Carrillo High School and says, "I love the movie and it's the first show I've auditioned for that has representation for Latinx characters."
Tickets $20-$25
Online at theatrearts.santarosa.edu
By phone (707) 527-4307
By email SRJCBoxOffice@santarosa.edu
Questions: Leslie McCauley lmccauley@santarosa.edu.
 
STAND AND DELIVER is produced by Special Arrangement with The Dramatic Publishing Company of Woodstock, Illinois.