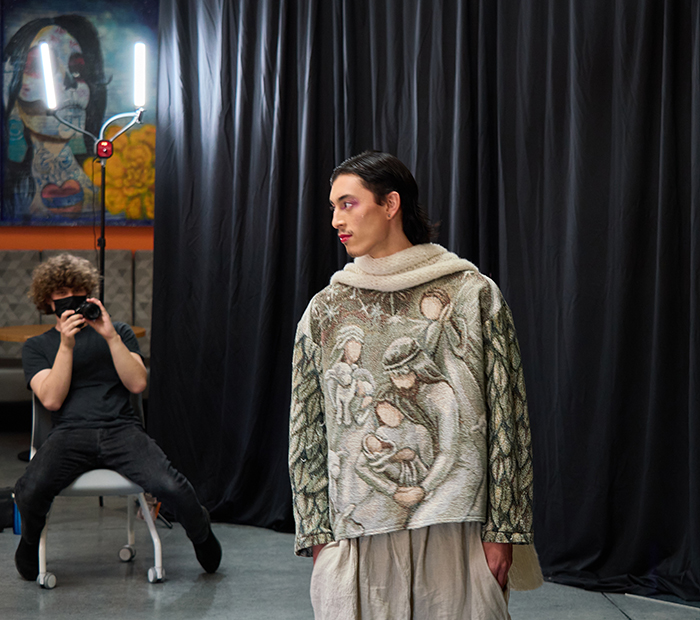 April 27, 2023, Santa Rosa, CA —Spring's long-awaited return to Sonoma county has brought sunshine, flowers and fashion to enjoy. The Santa Rosa Junior College Fashion Studies program's annual Spring Fashion Show is on Thursday, May 11, 2023, from 6:00 pm to 7:30 pm at the Carole Ellis Auditorium on the SRJC Petaluma Campus. The show is a student-produced event, featuring garments and accessories designed and made by Fashion Studies Program students and alumni. 
 
The theme of this year's show is "Cinema Paradiso."  The title is adapted from the award-winning Italian movie about an aging director's memories of falling in love for the first time: with a young woman, and with the cinema. The show is inspired by themes and characters of a variety of movie genres. 
 
After the main runway portion of the fashion show, awards will be given for the Fashion Studies Design Contest. This year's contest, "Prints Please!" required students to incorporate multiple prints or patterns in creative and unusual ways. The final segment of the show will feature three mini-collections designed and constructed by our senior students. 
 
Emily Melville, Fashion Studies Program Coordinator, is the instructor of the Fashion Show class.  "We are very excited to be holding our Spring 2023 show in Ellis Auditorium. Our students were inspired by this classy and exciting venue that is such an iconic part of the Petaluma campus."
 
"I'm so happy to be back, producing a show at this level of grandiosity," says Venue Coordinator and SRJC student Caitlin McFall, "With this year's fashion show, we're upping the stakes. Cinema Paradiso will be a grand celebration of cinema and the arts; I'm so excited for you all to see." Student Director Dylan Dockstader adds, "This is going to be the movie event of the year. You definitely won't want to miss it."
 
Tickets are $5.00 in advance and $10.00 after May 7th, available for purchase at  https://give.santarosa.edu/fashion23. Carol Ellis Auditorium is located on the Petaluma campus at 680 Sonoma Mountain Parkway, Petaluma. Doors open at 5:30 pm.
 
More information, including a video of last year's show, is available at: https://linktr.ee/srjcfashionstudies