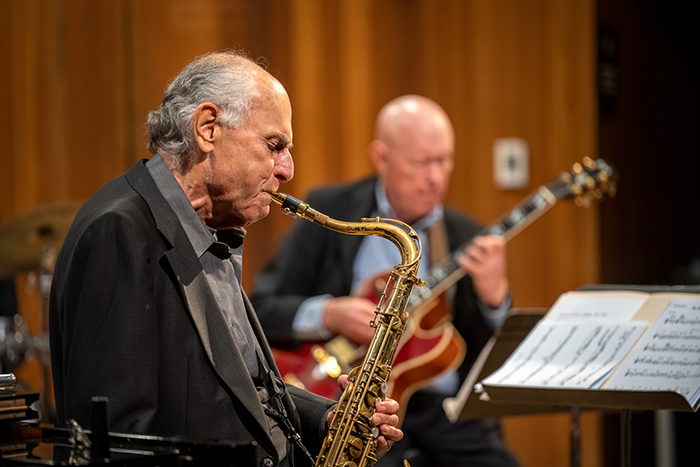 February 28, 2023, Santa Rosa - The Music Department of Santa Rosa Junior College presents a jazz concert by the Bennett Friedman Quartet on Thursday, April 13 at 7:30 PM in Newman Auditorium on the SRJC campus.  Guitarist Randy Vincent, bassist Jeff Denson, and drummer Kendrick Freeman will be featured. Admission to the event is $15 general and $10 for students and seniors.  There is a $4 fee for parking on campus.  Proceeds from the concert benefit the SRJC Foundation Jazz Studies Fund.
The performance will feature works of Joe Henderson, Bobby Hutcherson, Antonio Carlos Jobim and others.
Randy Vincent has been teaching jazz guitar at Sonoma State University since 1981.  He has performed with Bobby Hutcherson, Joe Henderson, and Dizzy Gillespie.  He has authored six books on jazz guitar, published by Sher Music Co.
Bassist Jeff Denson has performed and recorded extensively with legendary jazz saxophonist Lee Konitz.  Jeff graduated cum laude from Berklee College of Music in Boston, received his MM in Jazz Studies from Florida State University, and his Doctor of Musical Arts from UCSD.  Jeff has also performed with Anthony Davis, Joe Lovano, Jan Ira Bloom, Kenny Werner, Dave Douglas and many others.  Dr. Denson is currently Dean of Instruction at the California Jazz Conservatory in Berkeley.
Kendrick Freeman has background in both drum set and hand drums, having studied with American artists and musicians from Ghana, Congo, and the Caribbean, with an emphasis on the music of Haiti.
Kendrick leads a jazz ensemble at Sonoma State University.
Saxophonist Bennett Friedman has performed at the Monterey Jazz Festival, the Stanford Jazz Workshop, the San Jose Jazz Festival, the Healdsburg Jazz Festival, the Monterey Bay Blues Festival, and the Russian River Jazz Festival.  He has been featured as a soloist with Frank Sinatra, Rosemary Clooney, Natalie Cole, and Marvin Gaye. Friedman has taught Jazz Studies at Santa Rosa Junior College since 1977.  He is the recipient of a National Endowment for the Arts grant for jazz composition.
For further information please call 527-4255 or email bfriedman@santarosa.edu