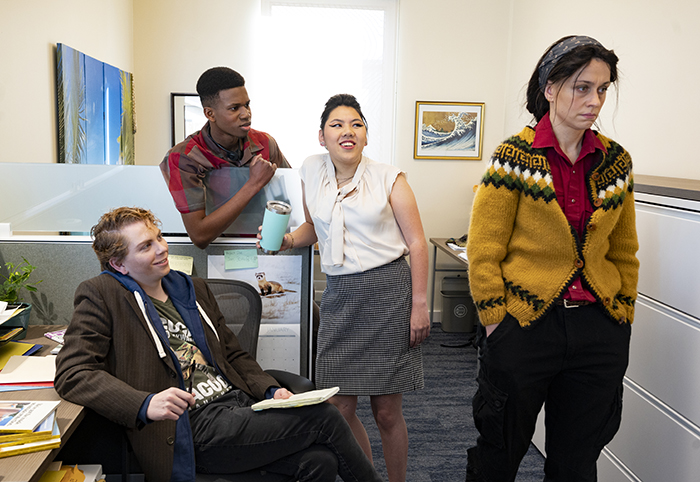 February 1, 2023, Santa Rosa, CA — The Santa Rosa Junior College (SRJC) Theatre Arts Department is opening their spring 2023 season next month with the play "Gloria," by Branden Jacobs-Jenkins. The show is directed by SRJC faculty member and Department Chair Leslie McCauley, and assistant directed by Theatre Arts' alum Riley Craig.
The show runs March 3, 4, 8, 9, 10 11 at 7:30pm and March 5, 11, 12 at 2pm, in the Burbank Studio Theatre.
Reviewed by the Chicago Tribune as "a shocking, hilarious and spectacularly honest play," "Gloria" follows an ambitious group of editorial assistants at a notorious Manhattan magazine, each of whom hopes for a book deal before they turn thirty. But when an ordinary workday becomes anything but, the stakes for who will get to tell their own story become higher than ever.
"Gloria" is both laugh-out-loud funny and devasting. This razor-sharp satire explores the comic—and sometimes tragic—effects of ambition and productivity culture in a hyper-competitive, dehumanized corporate environment. Of "Gloria," Jacobs-Jenkins says, "There's one notion I'm always trying to chase, and it's that idea of the sublime or awe or wonder or magic…just really being taken by surprise."
Jacobs-Jenkins is one of America's leading Black playwrights and a 2016 MacArthur Fellow. He is a graduate of Princeton, New York University and the Juilliard School and currently teaches at Yale. Jacobs-Jenkins is the author of the critically acclaimed, "An Octoroon" and his plays have been performed at leading repertory theatre companies all over the world.
"Gloria" was a finalist for the 2016 Pulitzer Prize for Drama. It premiered Off-Broadway at the Vineyard Theatre in 2015. Since then, it has been performed at the Goodman in Chicago, London's Hampstead Theatre, Scotland's Royal Conservatory and San Francisco's American Conservatory Theatre in early 2020.
Trevor Braskamp, who plays Dean/Devin, auditioned for the play because the role will push him to find deeper vulnerability onstage. He said the play "calls into question how much we dehumanize people in the workplace and pushes us to reconnect as humans."
Juliya Lubin (Gloria/Nan) is new to acting, having moved to Sonoma County from New York City. She notes, "Having worked in toxic corporate environments in NYC, and having witnessed the price of ambition firsthand, I felt acting in this play could be a cathartic experience."
This production is designed completely by SRJC students Nora Meas (Scenery), Chris Cota (Lighting), Sophie Carlton (Costumes), Brenda Espinoza (Hair and Makeup), Alex Clark (Sound), Abby Miranda (Properties), Bailey Miller (Hair and Makeup Assistant), and Sofi Peach (Costume Assistant).
Tickets range from $15 to $25 and can be purchased online at theatrearts.santarosa.edu, or by phone at (707) 527-4307.
GLORIA is presented by special arrangement with Dramatists Play Service, Inc., New York.
Please note that this play contains gun violence, suicide, strong language and loud noises. May not be suitable for audiences under the age of 17.
Photo credit: Thomas Chown