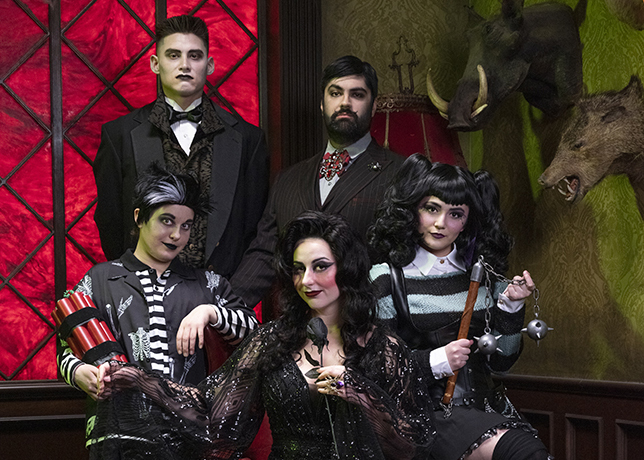 March 9, 2023, Santa Rosa, CA — The Santa Rosa Junior College (SRJC) Theatre Arts Department is opening their musical comedy "The Addams Family," based on the characters created by Charles Addams. Book by Marshall Brickman and Rick Elice. Music and lyrics by Andrew Lippa. The show is directed by SRJC faculty member Laura Downing-Lee, with music direction by Nate Riebli, and choreography by Alyce Finwall.
The show runs April 21, 22, 27, 28, 29, May 4, 5, 6 at 7:30 pm and April 23, 29, 30, May 6, and 7 at 2:00 pm, in the Burbank Main Theatre.
This Goth-comic-retro-revival musical is filled with the same wonderfully macabre family who inspired the iconic TV show of the 1960s and several popular films.  Wednesday Addams (the ultimate princess of darkness) has fallen in love with a "normal" young man and wants to invite him and his parents to meet her family…and that's when her father's terribly entertaining nightmare begins!
Gwenevieve Nelson, who grew up in Santa Rosa and attended Montgomery High School, plays Morticia Addams. "I've never had a lead of this caliber and I'm hoping to improve my acting, singing, and dancing skills. Growing up, I enjoyed watching the movie and I idolized Morticia's perception of the divine feminine."
The role of Wednesday Addams will be played by Austin Aquino-Harrison, an SRJC vocal major who intends to pursue a career in musical theatre. On playing Wednesday, Aquino-Harrison says, "She's complicated and has a dry sense of humor, which I love, and she just has so many interesting quirks about her. Her deadpan delivery is also something that I can relate to."
Juno Montros is a graduate of Santa Rosa High School's ArtQuest program in Studio Art. On playing Pugsley, they said, "My inspiration to audition was to combat social anxiety. For the first time in years, I am seeing past my mental health challenges. Who knew that all it would take is someone believing in you, in any capacity, and a community of lovely, caring individuals?"
The role of Lurch will be played by Noah Bartolome, who is a graduate of Sonoma Valley High School. Bartolome said that, like his character, he "prefers wordless responses" and that he is "excited to develop his non-verbal expression and acting skills."
Jared Jacobson, who is an adult re-entry student in welding and plays one of the chorus of Ancestors, says, "I'd like to think the Addams family would either adopt me or hire me as an apprentice to Lurch."
Tickets range from $15 to $25 and can be purchased online at theatrearts.santarosa.edu, or by phone at (707) 527-4307.
THE ADDAMS FAMILY, A NEW MUSICAL COMEDY is presented through special arrangement with, and all authorized performance materials are supplied by Theatrical Rights Worldwide, 11808 Avenue of the Americas, Suite 640, New York, NY 10036.
Photo credit: Thomas Chown